The Spiritual Life Institute community is a group of men and women dedicated to living the contemplative life and sharing that life with others. We are neither intellectuals nor saints, but just ordinary women and men whose particular calling is to make as wholehearted a response as possible to Christ's invitation to "come into the desert to pray." We have two monastic retreat centers, one in Crestone, Colorado, and one in County Sligo, Ireland.
The Spiritual Life Institute is a Roman Catholic, ecumenical community of vowed men and women with roots in the Carmelite contemplative tradition. Taking seriously God's command, "Be still and know that I am God" (Ps. 46), and Christ's declaration "I have come that you may have life, and have it to the full" (John 10:10), we aspire to create a vital environment characterized by solitude, simplicity and beauty, where community thrives, love is nurtured, prayer flourishes, and the whole person can be transformed.
Our primary mission is prayer. We offer our lives as witness to the gospel and in intercession for the world. In that spirit, we maintain retreat centers, publish, preach, teach and engage in ecumenical outreach to help create a contemplative atmosphere where, by grace, God's presence in our lives may be realized.
Our spiritual lives and our daily lives are inseparable. Working in the garden, cooking a meal, walking along a stream, or visiting with family and friends: these are all part of our spiritual life, because they form part of a healthy, human life. Many, if not most of our "spiritual" problems arise because we are not living a "human" enough life. We foster our spiritual lives by cultivating our basic, good, God-given human potentialities.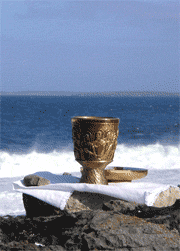 A pivotal human quality is our ability to create and to participate in beauty. The Russian novelist Fyodor Dostoyevsky exclaimed "Beauty will save the world!" We need to create, to protect, and to foster beauty in all its guises. This is how we express our humanity and give flesh to the spirit of God dwelling in us. Writing a poem, painting a picture, fighting to preserve the beauty of nature, or creating a lovely home are just a few of the infinite ways we can participate in the beauty of God, share that beauty with others, and thereby help "save the world."
In our urbanized society, the experience of natural beauty and sacred space is invaluable. When we lose touch with nature, with the wilderness, we lose touch of part of our humanity. And as a consequence we lose touch with one of the most important means of God's presence becoming manifest in our life and world. Throughout scripture, and as seen in the lives of many holy men and women, the wilderness has been the place of God's interaction with us. From the desert of Sinai to the islands off the coast of Ireland, men and women of all ages have sought, and found, God in the pristine beauty of nature. Our retreat centers are located in naturally stunning areas. The sense of wonder, delight, and awe engendered by these landscapes catapult us into prayer, into adoration.
A Carthusian monk defined contemplation as "a participation in divine life, in the knowledge and love of God. Christian contemplation is the awakening of the life of Christ in us through the breath of the Spirit." Contemplation then is not so much something we do as a relationship we enter into. A relationship of love with God; a participation in the divine love life of the Trinity, and as a consequence an overflowing extension of that love into the world.
Contemplation is a very human act. St. Augustine said "We were meant for you O Lord, and our hearts are restless until they rest in you." Unfortunately in today's fast-paced and dehumanizing society our contemplative muscles have grown flabby, and we fill our restless hearts with so many things that do not satisfy. We need time, space, and support to foster the contemplative spirit that lives in each of us. We believe that everyone is a contemplative at heart. Of course that contemplative spirit is manifested in many different ways. Being an apostolic hermit is one of those ways--but so is being a parent, a carpenter, a teacher, a business person. No matter what walk of life you are in, it is possible for you to cultivate your contemplative soul.
At our centers, we try to provide an environment that is naturally conducive to growth in the contemplative life: a simple hermitage, healthy food, a balance of solitude and community, work and play, a beautiful chapel, a broad library, and breathtaking natural beauty. All of this experienced in an atmosphere of spaciousness and loving support from a community whose desire is for you to experience the great love that God has for you.
Both of our centers--Holy Hill in Ireland and Nada in Colorado--are open to people of all faiths and walks of life who are looking for a quiet place to reconnect with their roots in God, or simply a place apart from the noise and hustle of our contemporary society where they can rediscover their human dignity. Please check our retreats page and home pages for Nada and Holy Hill for additional information about coming on retreat. Most of our retreats are non-directed; that is, you schedule your days to suit your soul's need. We provide the hermitage, the basic necessities, and the spaciousness, silence, and beauty necessary to "rehumanize" yourself. In addition we, on occasion, offer directed retreats around specific themes. Check the "upcoming events" links for Nada and Holy Hill for information.
We also share our lives through publications such as our periodical, Desert Call, and numerous talk and music recordings. Check out the publications page for details.
Some of us are periodically available for outside speaking engagements and leading of retreats. Use the contact information provided below to make inquiries.
This unique and compelling image of Christ was created by our friend and architect Jon Worden (jonwordenarch.com), who designed many of our buildings, including the Sangre de Christo chapel in Colorado, and our library at Holy Hill .

Originally used as a cover for an issue of our periodical Desert Call, this image of the wounded, yet resurrected Christ embracing the world captures visually the life we try to live. The world is good, yet wounded. When we experience the loving embrace of the wounded Christ we are more able to embrace our own wounds, and those of others. This is the path that leads inevitably to the beauty and glory of the resurrection.
God takes all of our good human desires and talents and uses them to make us whole, holy people. Our life demands good physical and psychological health. We value our vows of poverty, chastity, and obedience and enjoy a healthy man/woman celibate dynamic. Both genders have equal access to leadership positions. Do you feel drawn to live as an apostolic hermit, with about half of your time spent in silence and solitude and the other half in an intensive but limited apostolate of running a retreat center and publishing? Are you self-disciplined enough to be faithful to prayer, physical exercise, individual growth, and service to others with a minimum of external structure? Could you be happy in this lifestyle?
If your answer to the above questions is "yes," and you are between your mid-twenties and your mid-forties, consider making a retreat with us to see us up-close. If you still feel attracted to our life, we will explore the possibility of a permanent commitment one step at a time, beginning with an extended retreat. Calls to the apostolic hermit life are fairly rare, and it requires a muscular personality to be so intensely contemplative/active. We really do enjoy this life and most visitors notice a light-hearted spirit about us. All anyone can do is put one foot after another, listen to the Holy Spirit, and see where he leads. God is good, and he is certain to take us somewhere good.
If you would like to support us in our life and mission there are several ways you can do so. First, and most important, is the support of your prayers and your friendship. Many of you who have come on retreat or for a visit have become our good friends. We could not survive without the love and prayers you provide. Those of you reading this whom we have not met can still support us with your prayers, and for that we are grateful. We hope to meet you some day!
If you are able to support us financially we would be very grateful as well. All U.S. Donations are tax deductible. (Donations made to Nada in Colorado can be earmarked for Ireland if you wish.) Holy Hill in Ireland is a registered charity.
We also support ourselves by offering retreats and selling our publications. So you can help us, and help yourself in the process, by coming on retreat or visiting our publications page and ordering something for yourself or a friend.
If you are living in or near the Crestone area, or if you are planning an extended visit, and are able to donate some of your time we have many tasks around the monastery with which we could use help. No experience is necessary! Give us a call and we'll work out an arrangement that is good for both of us.
Please tell your friends about this website, and come back to visit. We will be expanding and updating it regularly.
You may write:

Nada Hermitage

P.O. Box 219

Crestone, CO 81131

(packages shipped other than by U.S. Post please add street address:
1 Carmelite Way)

Or call:
(719) 256-4778

Or e-mail:
general e-mail:
nada@spirituallifeinstitute.org
retreat info and scheduling:
nadaretreat@yahoo.com

You may write:



Holy Hill Hermitage

Skreen, Co. Sligo

Ireland

Or call:
(from the US) 011-353-71-91-66021
(from Ireland) 071-9166021

Or fax:
071-9166954

Or e-mail:
holyhill@eircom.net